Push Your Brand to the Top with Pay Per Click Advertising
Need to generate a significant amount of pertinent traffic immediately? Marketing a brand new product and want to get ahead of the competition as quickly as possible? Then pay per click advertising is the marketing tactic you need to cement your space and increase brand awareness in paid distribution channels. PPC advertising isn't for everyone — campaign management requires significant testing to find your company's sweet spot and identify which approaches work best for generating conversions. If you're ready to push your business to the forefront and make an impact online, we can help.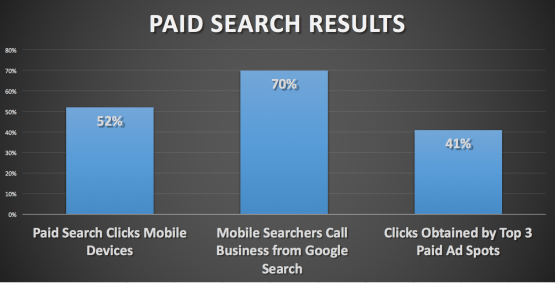 Types of Pay Per Click Advertising Services
When it comes to creating exposure for your brand through paid advertising channels, there are a number of different types of platforms and campaigns we can launch. They include:
Google Adwords PPC
Bing PPC
Contextual Advertising
Localized Campaigns
National Campaigns
International Campaigns
As a pay per click agency, we make sure to do our due diligence when it comes to researching your industry and identifying the optimal channels for launching pay per click advertising campaigns. Google Adwords represents the major platform for typical paid search campaigns, but Bing and contextual search platforms represent opportunities to advertise in a less-competitive space and take advantage of traffic from multiple sources.
Benefits of Pay Per Click Advertising
Immediate Lead Generation: promote new products and services through ads on search engines, text-based advertising, and other paid distribution channels.
Dominate the Page on Search Engines: running a PPC campaign on either Bing or Google in conjunction with an organic search strategy will give your brand presence on both the paid and non-paid listings of search engines, allowing you to dominate the page for your most important keywords.
Pay Only for Clicks: it's as simple as it sounds – you only pay when someone clicks your advertisement. Unlike traditional advertising, paid advertising allows you to set a budget and only pay when someone visits your landing page.
Understand Your Audience: by testing different paid advertising sources, you will be able to see which keywords, ads, and placements generate the best return on investment. You will thus learn more about your targeted audience's consumer behavior online, and then adapt your strategy accordingly.
Our Pay Per Click Advertising Strategy
Keyword Research: through extensive research, we will select the best collection of keywords for search-based campaigns to maximize exposure and keep bid costs relatively low.
Segmenting and Targeting: users will be segmented based on keywords and geographic location to isolate specific users for multiple campaigns. We will also create multiple ad groups for both split-testing and optimization purposes.
Landing Page Development: possibly the most essential part of any campaign, landing pages with a clear call to action and easy to follow steps will be used to increase conversion rates and maximize your return on investment.
Our Execution and Management
Campaign Creation and Testing: the initial stage is critical as the immediate feedback allows our team to analyze the current strategy and re-adjust based on the ad copy, landing pages, and keywords that are most effective at driving traffic and targeting leads.
Ongoing Monitoring: we will closely analyze click-through rate and conversion rates of each ad and make adjustments with regards to bid management.
Reporting: on a periodic basis, your company will receive detailed campaign reports, including key statistics and future recommendations if the campaign needs adjusting.